Tata Winger Ambulance Van
ENOUGH ROOM FOR A HOSPITAL-ON-WHEELS
Big on space, Winger Ambulance from Tata Motors is a single stretcher ambulance that offers extra safety, a smooth drive, and a 'within budget' price. It gives you the freedom to redesign the interiors, for your own Hospital-on-Wheels.
WINGER MULTI PURPOSE VEHICLE (MPV) COMES IN THREE VARIANTS FOR AMBULANCE
Discover how Winger Ambulance meets your requirements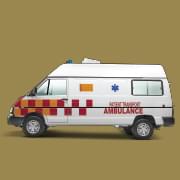 One-of-a-kind design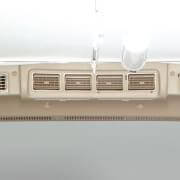 Dual ac for patient comfort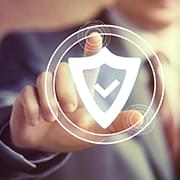 Assured safety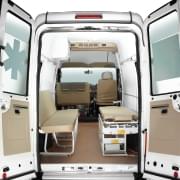 Easy entry & exit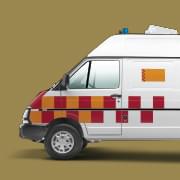 Right at your doorstep
Winger Ambulance incorporates an innovative design unmatched by other ambulance vehicles. Both its engine and driveline compartment have been compressed, to maximise interior space. There is enough room for a patient and attendants, providing comfort for all.
Scope for customising Winger Ambulance
To meet your specific needs, Winger Ambulance Multi purpose utility Vehicle ( MPV ) can be customized as a Mobile Medical Unit, Critical Care Unit (Advance Life Support Ambulance), Blood Transportation Van and more. Some of the features that can be added in Winger Ambulance are:
Wash basin with foot-operated tap and water dispenser of 5-ltr capacity.
Portable steel dustbins with spring-loaded lids, for waste disposal.
Foldable doctor's seat plus squad bench to seat 4 persons; internal storage space for extrication kit.
Hat-rack with sliding glass side doors for additional storage space.
Footstep for easy entry and exit.
50 Hz 800 VA inverter; integrated AC/DC supply in vehicle synchronised with:

Light bar rhombic-shaped double layered structure with integrated PA system.
6 high intensity flashers on sides and rear of vehicle.
Internal lighting consisting of 4 LED-type tube lights, 3 spotlights and one examination light.
fans.
Two 230 V AC 3-pin sockets & an external charge port.

Grab rail with IV hooks.
Oxygen delivery system with integrated piping and 3 concealed outlets on side walls, besides pressure regulators and humidifiers.
pressure regulators and humidifiers.
Pull-out type storage trolley for two D-type O2 cylinders.
FRP panels with provision for fitment of optional medical equipment like auto loading stretcher, scoop board, spine board, wheel chair, ventilator, defibrillator, etc.
Two sliding glass windows in the patient compartment for cross ventilation.
270-degree outward opening rear doors fitted with glass windows and a positive locking arrangement (magnetic type).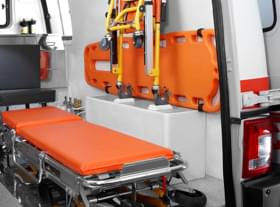 Safe and Reliable
Anti-skid flooring.
Larger patient cabin dimensions.
Meets frontal crash norms.
3-stage collapsible steering wheel, thick a pillars and crumple zones.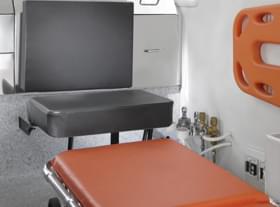 Easy movement
Better internal height in high roof ambulance ensures easy movement.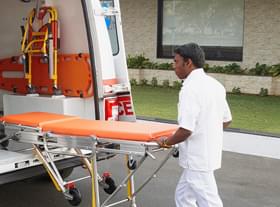 Low floor height
495 mm enables easy entry and exit.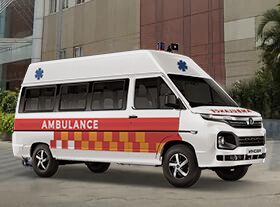 Extended Warranty
Comes with a 3-year/ 3 lakh km warranty.